IP67 Rugged Marine GPS Systems
ISGPS-301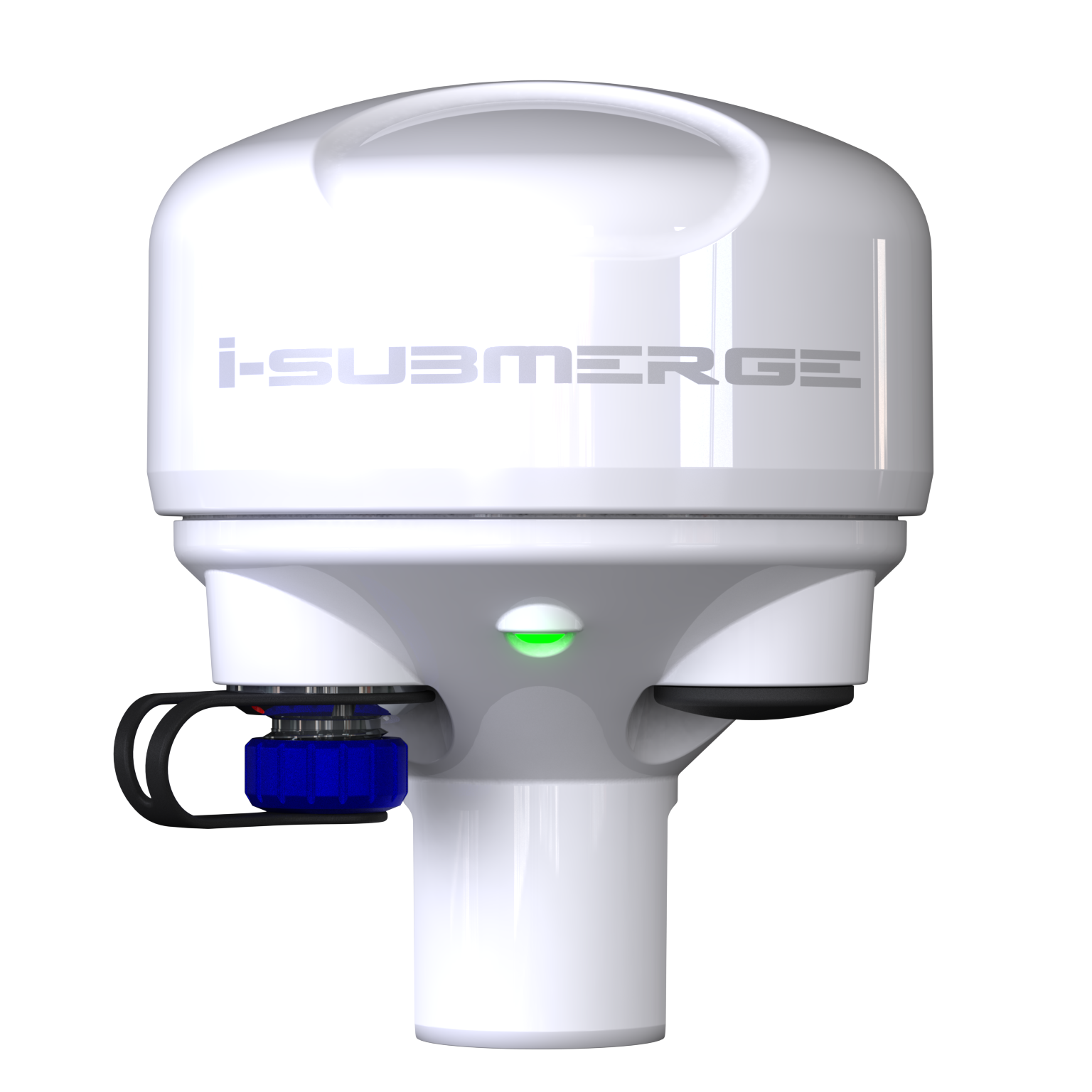 The i-Submerge ISGPS-301 GPS is a rugged and easy to use GPS with integrated compass, orientation and pressure sensors, designed for use within the marine environment.
Rugged and Waterproof (IP67)
The ISGPS-301 is waterproof and dustproof, rated to IP67, and specifically designed for use in marine conditions, especially small boats. It is supplied with i-Submerge MPSI (Multi Protocol Sensor Interface) which provides a driverless USB interface (HID & CDC), TTL serial interface and digital timing outputs via IP68 rated connectors and cables.
The GPS unit is mounted using a standard GPS 1″ threaded mount which is compatible with common marine GPS mounts and the RAM™ range of mounting hardware.
Reliable & Accurate GPS Engine
The ISGPS-301 contains an industry standard u-blox GPS receiver. This GPS receiver features industry leading sensitivity, excellent positional accuracy, the ability to concurrently track up to 72 satellites from multiple constellations (GPS, GLONASS & BeiDou) and a high position update frequency (10-18Hz).
The additional integrated sensor provides an unprecedented range of additional data via the compass, orientation (including gyroscope & accelerometers) and pressure sensors. The availability of the output of digital timing outputs allows of the synchronisation of multiple additional sensors to the GPS position data.
The ISGPS-301 may be supplied with either a USB or TTL Serial cable. The connector is fully IP68 rated, both when connected and disconnected. Additionally, the connectors are threaded and will not pull loose while in use.
The device is supplied with Windows-based software to perform configuration and undertake basic logging of the GPS and sensor data. The USB interfaces are driverless install, so it is a true plug-and-play device. Additionally, a .NET API will be made available to allow for easy integration of the device into your own custom applications.
Housing
IP67 rated with double O-ring seals.

Made from rugged gloss white ABS with integrated pressure relief for use in environments with temperature extremes.

Mounts to standard GPS mount (1″ thread).

Mount is compatible with RAM™ mounting system.

IP68 rated cables provide with device.

Data activity LED in base.
GPS Engine
U-blox MAX-M8 GPS engine.

Industry leading -167 dBm navigation sensitivity

Tracks up to 72 satellites continuously for multiple GNSS constellations.

Up to 10 – 18 Hz position updates (singe vs concurrent GNSS).

Horizontal accuracy < 2.0m CEP.
Additional Sensors
Provide robust compass heading and orientation data.

Provide atmospheric pressure readings.

Digital timing outputs for synchronising additional sensors.
Cables
USB 5m IP68 i-Submerge™ MPSI to USB A (GPS to standard USB port).

USB 5m IP68 i-Submerge™ MPSI to MPSI (GPS to i-submerge™ devices).

Serial 5m IP68 MPSI to bare wires (bare cable, longer lengths available).